2015 All Hallows Specialty Results
Cavalier King Charles Spaniel Club of Greater Atlanta
2015 All Hallows Specialty Show Results
 Puppy Sweepstakes
Judge: Kathy Gentil (Sumara US)
Best in Specialty Sweeps

Almeara Extra Extraordinary
Owner/Breeder: Linda S. Whitmire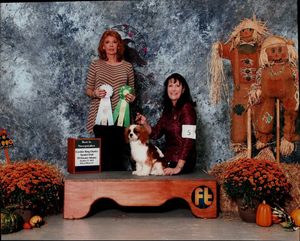 Best of Opposite in Puppy Sweeps
Padamere Love Potion
Owner/Breeders: Patty & David Miller
Best Junior in Puppy Sweeps
Almeara Visionnaire
Owners: Sharon Utych & Linda WhitmireBreeder: Linda Whitmire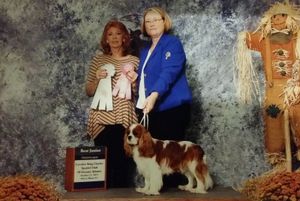 Regular Classes
Judge: David Kirkland  (Rokirk US)
Best of Breed, Best of Winners, Winners Bitch
Brookhaven I'm No Angel
Owner/Breeders: Paula Ayers & Brenda Martz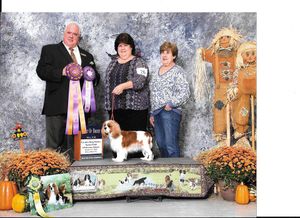 Best of Oppos
ite Sex
Signature Day Dreamer
Owner: Cathy Couture
Breeders: Larry & Melissa Crane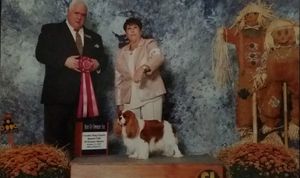 Winners Dog
Almeara Extra Extraordinary
Owner/Breeder: Linda S. Whitmire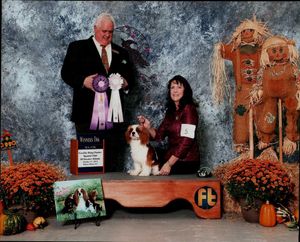 Select Dog
CH Aranel Avenger
Owners: J. David Talley, M. Talley, M. Smith & R. Aldous
Breeders: Mark Smith & Rick Aldous
Select Bitch
GCH Manor House Right As Rain
Owner/Breeder: Pat McCaslin
Award of Merit
 GCH St. Jon Copper River
Owner: Jennifer Wehking
Breeder: Maureen Pogorzelski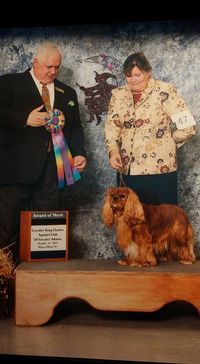 Award of Merit
GCH Chantismere Chi Chi
Owners: Milley Talley & J. David Talley
Breeder: Michael T. Hegarty
Best Veteran 
Karvale Brookhaven Finn, THD CGCA
Owners: Jim Utych & Sharon Onorato Utych
Breeder: Karen Evans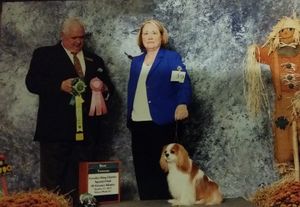 For Trophy Donor Listing, please click
HERE
For FULL RESULTS, please click

HERE
Judges Critique of Specialty Major Winners
CKCSC of Greater Atlanta Specialty Critique
Thank you to the CKCSC of GA for inviting me to judge their specialty and to the exhibitors for bringing their dogs. It is always an honor to be asked to judge a specialty and I thoroughly enjoyed myself both in and out of the ring. Special thanks to Sue Bess for handling all of my arrangements and to Ken Bess for toting me around. Although not required for this show, I offered to write some comments on the main winners. I hope you all find them useful in understanding my decisions. Perhaps, they can be published in your club newsletter. Finally, thanks for the Cavalier coasters which now occupy the coffee table in our den. The trophies offered at this show were exceptional! - Judge David Kirkland
Almeara Extra Extraordinary (Whitmire)
Eye-catching well-broken blen pup only 6 months old with so much ring savvy and presence for his tender age. Truly full of himself. Balanced silhouette with correct bone for his size. Sound mover with level topline and properly set-on and carried tail. Sweet expression from well-placed, large, dark eyes, nicely proportioned skull accompanies a filled and cushioned muzzle. Difficult to miss the many virtues of this youngster. Happy to award him
WINNERS DOG and BEST PUPPY
. I will be interested to watch him mature. I understand he also won the sweepstakes. Congratulations on a wonderful day!
Tudorose Rhythm N Blues (Mixon)
Another lovely blen youngster nearly one year of age and sharing many of the same virtues. Rich, dark color and silky coat, slightly off-square outline, short-coupled body with adequate bone to match. Pleasing head with large, dark eyes and well-cushioned muzzle in correct proportion to skull. Very exuberant youngster albeit a bit uncontrolled at times; but, I saw enough of his movement to know he is sound in all directions. His many qualities earned him
RESERVE WINNERS DOG.Brookhaven I'm No Angel (Ayers/Martz)
The winner of a very competitive BBE class. This well-broken blen girl was pressed hard by her rivals but proved victorious due to her overall balance and structure. A pleasure to go over; well-ribbed, short-coupled with proper amount of leg, good bone and short hocks. A picture in side movement; crested neck flows into level topline and on to a well-set and carried tail. Let's not forget her classic head; sweet, feminine, enchanting expression, large well-placed dark eyes, well-filled muzzle and jet black pigment. A bit shy of coat which called even more attention to her correctly balanced silhouette. She was the one I wanted to take home. Happy to award her
WINNERS BITCH, BEST OF WINNERS, BEST OF BREED and BEST BBE.
Congratulations on a fantastic day!
Almeara Look At Me (Whitmire)
Charismatic, lightly marked blen in glorious coat and condition. So sound in movement anyway you look carrying a level topline. Balanced silhouette with good bone, body substance and short hocks. Sweet expression from large dark eyes, dark pigment and well-cushioned muzzle, a pleasure to stare at her face. So much to admire about this girl. I was back and forth in my mind between her and the winner and it came down to the smallest of detail. An abundance of virtues earned her
RESERVE WINNERS BITCH.Signature Day Dreamer (Couture)
Lovely correct-sized blen dog with a well-broken coat of rich color. Fully mature with short-coupled well-ribbed shape. Level topline and correctly set and carried tail. Excellent mover coming, going and around exhibiting good reach and drive. The most beautiful large, dark eyes on a masculine head with well-cushioned muzzle. His many virtues of breed type earned him
BEST OF OPPOSITE SEX.
Congratulations on your win!
Ch. Aranel Avenger (Talley, Smith, Aldous)
Well-broken blen of a good rich color and correct silky coat. Proper short-coupled silhouette although a bit underdeveloped in body due to his young age. Excellent bone, solid topline. Masculine, correctly shaped head with large eyes and well-filled muzzle. Sound coming and in profile but needs strength in the rear. Happy to award him
SELECT DOG.GCH. Manor House Right As Rain (McCaslin)
Blen girl in excellent condition. Although not plentiful, her coat glistened. Her abundant ear feathering framed a face with gorgeous large, dark eyes and full muzzle complimenting her sweet expression. Well-made throughout, sound movement in all ways with level topline and properly carried tail. Quality bitch whom I have previously given top awards. I just preferred the size and femininity of the eventual winner. Easily deserving of
SELECT BITCH.GCH. St Jon Copper River(Wehking)
Really admired this dog's pretty face and kind expression. Beautiful coat of a dark, rich, ruby color. Good substance and bone. Sound coming, going and around with tail carried right off his back. His topline could be stronger. Happy to give him an
AWARD OF MERIT.GCH. Chantismere Chi Chi (Talley)
Sweet faced girl with rich blen color. Sound mover coming and going. Good to go over; but, unfortunately she dropped her head going around the ring which spoiled her outline. I suspect this occurred since her handler moved her much too fast. Still in all, she easily deserved an
AWARD OF MERIT.Karvale Brookhaven Finn THD CGCA (Utych)
Never easy to judge the Veterans as all of them touch my heart and I want to award all of them first. This blen caught my eye due to his well-conditioned silky coat, solid topline and properly constructed body. I was happy to award him
BEST VETERAN.
I would like to congratulate all of the entered Veterans with ages ranged from 7 years to 13 years! All of them in excellent well-muscled condition. Thank you for bringing them.