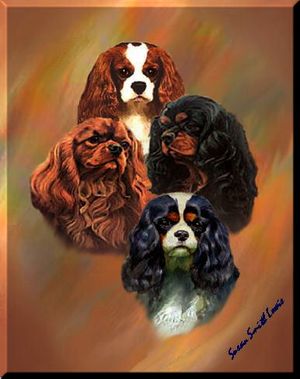 Encourage and promote quality in the breeding of purebred Cavalier King Charles Spaniels and to do all possible to bring their natural qualities to perfection.
Urge members and breeders to accept the standard of the breed as approved by the American Kennel Club as the only standard of excellence by which the Cavalier breed shall be judged.

Do all in its power to protect and advance the interests of the breed by encouraging sportsmanlike competition at dog shows and obedience trials.

Conduct sanctioned and licensed specialty shows and obedience trials under the rules of the American Kennel Club



Click on the Facebook logo above to view our Facebook page. Content on the Facebook page is not as current as our website, so be sure to check back on our website for all upcoming events!
Be sure to "like" the page and then use the Facebook "invite" button to invite your friends to also "like" our page!

 
Introduction to the CKCSCGA
Welcome to the Cavaliers of Greater Atlanta Web site.
We are a sanctioned breed specialty club and licensed by the AKC to conduct dog shows and matches. We maintain membership in the American Cavalier King Charles Spaniel Club,  the ACKCSC, which is the AKC Parent Club for the breed. The purpose of our Club is to protect and advance the interests of the breed by promoting quality breeding, sportsmanlike competition, and the education of both its members and the general public.
Our members range from experienced show competitors and breeders to first time pet owners, and we are the second Cavalier King Charles Spaniel local specialty breed club to become licensed by the American Kennel Club.

We are proud to be a Founding Partner at the Grand Benefactor level of the ACKCSC Charitable Trust, and were the first breed specialty club to donate at the $10,000 & Above level. The Charitable Trust was formed for the protection of the health of the Cavalier King Charles Spaniel and to insure the continuing health and welfare of the Breed.